Child Marriage in Pakistan: A Report on Punjab and Khyber Pakhtunkhwa 2020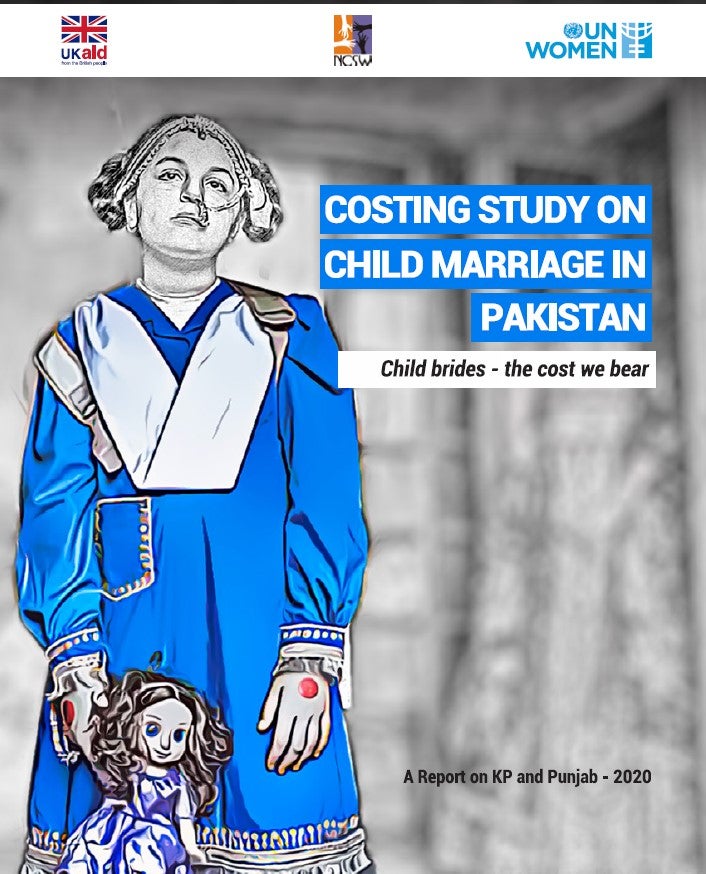 Child brides – the cost we bear
Child marriage takes away a girl's right to safe and healthy childhood, quality and complete education that can lead to decent economic opportunities, and social and political empowerment. Pakistan has the 6th highest number of girls married before the age of 18 in the world. Child marriage is prevalent due to several reasons including deeply entrenched traditions and customs, poverty, lack of awareness and/or access to education, and lack of security.
The impact of child marriage is usually associated with health and nutrition, fertility and population growth, child mortality, educational attainment, participation in the labour force, women's agency and gender-based violence. The health and human rights-based angles are frequently used to advocate for ending child marriage, but it is often neglected that early age marriage also negatively impacts the economic growth and development of a nation. According to a study by the World Bank in 2017, child marriage will cost developing countries trillions of dollars by 2030. Given the high rate of child marriage in Pakistan, it is important to understand the economic impact of child marriage in these dimensions.
To ascertain the cost of child marriage and its adverse impact on the economy, UN Women collaborated with the National Commission on the Status of Women (NCSW) on this ground-breaking study. This Costing Study on Child Marriage provides valuable insights on the costs of child marriage in the Pakistani context, by gathering new information on the direct and indirect cost of child marriage from 10 randomly districts from Punjab and KP.
The aim of this study is three-fold:
to address the existing gap in the evidence on incidence, socio-economic impact and associated costs of child marriage in Pakistan;
to inform policy debate and legal reform at the governmental level for eradication of child marriage through evidence-based research; and
to generate a wider socio-political and normative discourse around the issue of child marriage.
It is hoped that this analysis will offer a strong evidence base to inform decision-makers, legislators and other stakeholders on the norms and perceptions relating to child marriage in Punjab and Khyber Pakhtunkhwa (KP), as well as the costs associated with child marriage that substantiate its detrimental effects on national economy.
View online/download
Bibliographic information