UN Women Pakistan appoints Muniba Mazari as first National Ambassador
Date:
Islamabad, Pakistan - UN Women Pakistan appointed artist-writer-singer-activist Muniba Mazari as its first National Ambassador to advance gender equality and the empowerment of women and girls. The announcement was made in Islamabad, Pakistan during an event to mark the end of '16 Days of Activism Against Gender-Based Violence'.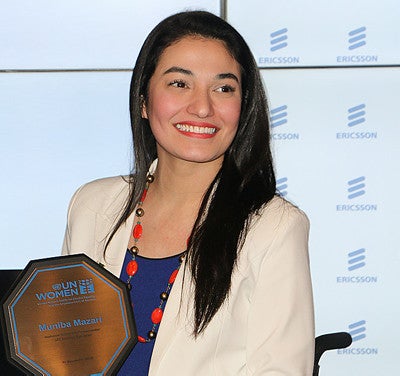 In her new role, Mazari will advocate for the UN Women's initiative Step It Up for Gender Equality and other campaigns promoting women's empowerment.
"We are thrilled and honored to have Muniba Mazari as UN Women Pakistan's first National Ambassador. She epitomizes the core values of UN Women and serves as an inspirational force for hundreds of thousands of women and men in Pakistan and abroad" said Mr. Jamshed Kazi, Country Representative for UN Women Pakistan.
Mazari, who has been in a wheelchair following a car accident seven years ago which left her with spinal cord injury, has represented the voice of people across Pakistan on important issues including gender inequalities and discrimination. Mazari was recently named as one of BBC's 100 Women for 2015.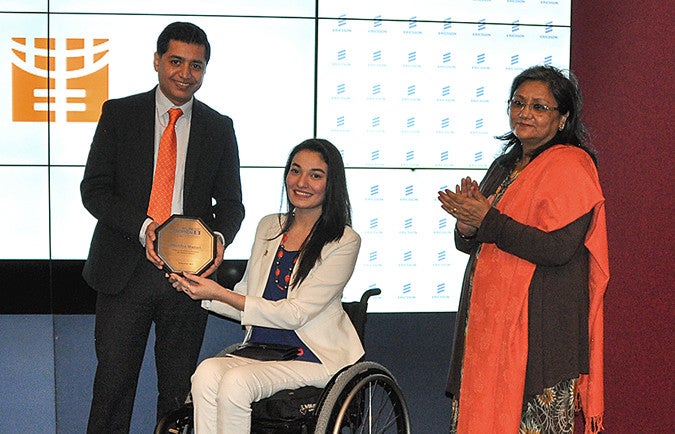 Speaking at the event, Mazari said: "I am a strong supporter of UN Women and the role we have in ending gender-based discrimination, working towards gender equality and making it a lived reality by 2030. This is the time to empower women and girls because when you empower one woman, you empower the whole generation".
In congratulating Mazari on her appointment Mr. Neil Buhne, United Nations Resident Coordinator in Pakistan emphasised that "women's rights are human rights and advocating for gender equality is not only UN Women's job, but a crucial agenda that the entire UN system in Pakistan will continue to be deeply engaged in".
Saudi Pak Tower goes Orange
Following the announcement, the Saudi Pak Tower in Islamabad's 'Blue Area' was lit in orange light to mark the end of '16 Days of Activism Against Gender-Based Violence'. As part of the UN Secretary-General's global campaign UNiTE to End Violence against Women, the colour orange is used to reflect a bright and optimistic future where women and girls can live free from violence and discrimination.
The event was attended by government officials, Members of Parliament (MPs), United Nations representatives and private sector partners.
"Women's participation in the political arena in Pakistan continues to grow. Many of the laws to curb harmful practices and discrimination against women passed in recent years would not have happened without the relentless advocacy and initiative of female members of parliament, along with a few strong male supporters" said the Honorable Ms. Shaista Pervaiz, Member of the National Assembly and Secretary of the Women's Parliamentary Caucus.
His Excellency Mr. Tomas Rosander, Swedish Ambassador to Pakistan, highlighted that "Gender equality is a goal in itself. But it is also a prerequisite for a prosperous and sustainable society. Gender equality is highly cost-effective; how could one afford to see half of the population not fully involved in a country's future?"
Mr. Ashley Gold, President of Ericsson Pakistan, as co-host of the event, expressed appreciation for the increasing collaboration with UN Women.
The event was organized by UN Women Pakistan with the support of Saudi Pak Tower, Ericsson Pakistan, and Philips Pakistan Limited.
For more information contact:
UN Women – Pakistan
Faria Salman
Strategic Management and Partnerships Officer & Communications Focal Point
Email: [ Click to reveal ]
Henriette Bjoerge
Communications and Advocacy Officer
Email: [ Click to reveal ]